June 14, 2010
735 Views

[Updated with video] Facing off half a ton of enraged muscle and horns intent on doing you serious damage dangerous, dangerous work; so when you hear that a Mexican matador got cold feet you can kind of appreciate the place he is coming from.
That is the situation that 22-year-old bullfighter Christian Hernandez found himself in last Sunday at Plaza Mexico. The Associated Press reported that the fainthearted torero spun his cape once and ran for his life. As he jumped to the safety of the other side of the fence, the crowd were said to have been somewhat vocal in expressing their lack of sympathy.
After his rapid exit, he was convinced to re-enter the ring, but exited again shaking his head. Hernandez was arrested for breach of contract a short time later – a fine secured his release. He shared his thoughts with the media the next day:
There are some things you must be aware of about yourself, I didn't have the ability, I didn't have the balls, this is not my thing.
No doubt the severe leg goring that he received a few months ago played some part in his loss of nerve.
In his article Matador versus taurus: bull gore injury which appeared in the Annals of the Royal College of Surgeons of England, Mark Sheldon Lloyd offers insight into the nature of bull horn wounds:
Bull horn wounds are usually penetrating and contusive; they have special characteristics, the entry point being small and corresponding with a gap in the aponeurosis. Two or more deep wound tracts may be present hiding important muscular destruction. Wounds are often contaminated with multiple foreign bodies such as cloth fragments, dirt and horn chips.
Things can get complicated, as the bulls height and range of movement often bring horns within range of the more delicate regions of the male anatomy:
The second commonest site of bull gore injury in the matador is the perineal area. Scrotal avulsion often requires plastic surgical reconstruction
Though those in attendance at Plaza Mexico might not think it, this author is of the opinion that any decision that saves a man from possible scrotal avulsion is probably a good one.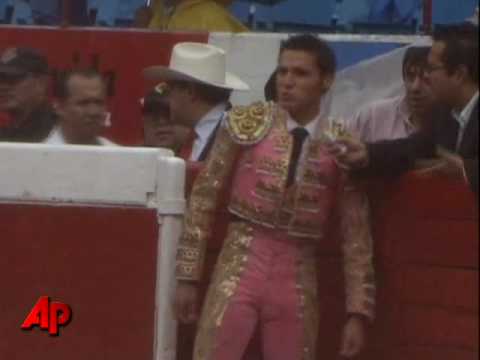 [Image]