November 19, 2010
5551 Views
9. You would contemplate making or drinking "piss-ky"

You know that bit in Desperado when they tell the American tourists why the beer tastes like piss (if you don't you can see the video below)? Apparently that gave James Gilpin an idea – instead of the disgusted giggle that it gave everyone else.
James Gilpin is a designer and researcher who works on the implementation of new biomedical technologies. He's also got type 1 diabetes, where his body doesn't produce enough insulin to regulate blood sugar levels.

So he's started a project which turns the sugar-rich urine of elderly diabetics into a high-end single malt whisky, suitable for export.

The source material is acquired from elderly volunteers, including Gilpin's own grandmother. The urine is purified in the same way as mains water is purified, with the sugar molecules removed and added to the mash stock to accelerate the whisky's fermentation process. Traditionally, that sugar would be made from the starches in the mash.

Once fermented into a clear alcohol spirit, whisky blends are added to give colour, taste and viscosity, and the product is bottled with the name and age of the contributor.
An art project it may be, but if you found yourself wondering what Gilpin's old folks' urine whisky tastes like, then you sir – or madam – may very well have a problem.
10. You are competitive about your drinking and need a bottle opener to keep score

Plenty of people like to tell tall tales about how much they drank the night before. This bottle opener will furnish them with evidence by way of a little LCD screen – there's nothing like having proof that you are a massive alcoholic.
Seriously, if you lose count, you are probably drinking too much but I do concede that your problem may be with numbers and not with booze – in which case a bottle counting bottle opener would make quite a lot of sense..
Competitive drinkers can purchase the beer tracker for a mere $10.
11. You bathe with your beer

Sitting in a hot-tub with an ice-cold beer in one hand is one of life's simple pleasures. Seriously, you have hot water on the outside of your body and cold beer going in – it is a match made in heaven. Of course, doing this often enough to build a hot tub out of Heineken crates is far too much of a good thing.
12. Six beers in a cooler is no longer enough

Drinking 12 beers at an outing is acceptable only if you are a frat boy. If take six beers somewhere, you are going to a party. If you take 12 strapped to your chest like you are wearing some kind of ammo vest then you are the party, or at the very least the entertainment.
Here's what the manufacturer has to say:
Next time you're tailgating, camping or attending a BYOB party you can avoid those long, thirsty walks back to the cooler or the fridge by keeping a plethora of your favorite canned beers right on your chest.

Warning: Wearing this holster may result in your friends using you as a human pack mule that exclusively carries beer.
Price: About $38
13. You need to lock away your good wine

This sturdy looking metal wine cage comes with a drawbridge-style door and a hefty metal padlock – and is a good way to make yourself think twice before busting out the good stuff.
Of course, if you share your house with untrustworthy teenagers you may have good reason for keeping the good stuff under lock and key.
Price: $199 or available on eBay
14. You use empties for worship-related purposes

I'm not much of a religious person – in fact, I am not religious at all, so I could be alone in finding it weird that these beer bottle organs are used in churches. The organs are the work of Peterson Strobe Tuners.
Peterson Strobe Tuners have been around quite a while and for their 50th anniversary celebrations, the well-known sound company decided to pay a tribute to the organ by making one out of beer bottles! Astonishing as it is but the idea put forward by the company's designer Gary Rickert was actually going to be a recreation of a similar feat achieved over 200 years ago by one Mr. Johann Samuel Kahlewein who created a bottle organ for the pastor of the church on the island of Helgoland who got tired of paying for an organ tuner to sail out every month.

The modern version of the design uses everyday beer bottles polished off by employees of the firm and has each bottle is positioned right next to a small air pump with keyboard up front controlling the pumps. Since the liquid inside determines the kinda sound that comes out of the organ, the company decided to use mineral oil in place of water or beer even to make sure the instrument doesn't go out of tune. An amazing achievement in instrument design, the Beer Bottle Organ certainly is something that can make church a happening place to be at again!
15. You brew your hooch, prison-style
Home brewing is a delicate art – home hooch making… not so much. Seriously, if you think that buying a ten dollar kit that takes all of 48 hours to turn regular old fruit juice into something that may also be known as pruno is a good way to cut the alcohol bill – then you should probably be thinking about finding help for your problem. If you want to see what a little rapidly fermenting yeast can do to your monthly alcohol bill, you can now get all of the necessary components at Think Geek.
With this kit and a 64oz bottle of juice, you'll be able to enjoy a sparkling, alcoholic beverage in 48 hours.
Science causes the yeast in the kit to turn the fructose in the juice into alcohol and carbonation.
Juice not included.
Alcohol Content: once it has sat 48 hours, alcohol content can reach 14 percent.
Includes: 6 yeast packets, 6 bottle labels, 1 airlock, 1 rubber stopper, and fun recipes.
Ingredients: yeast, organic evaporated cane juice, emulsifier.
Net Wt.: each packet contains 1g (0.035oz) of magic.
16. You create massively complicated methods for pouring beer
This Rube Goldberg style beer pouring machine is incredible not just for its complexity – but for the amount of booze-related materials that were used in its construction.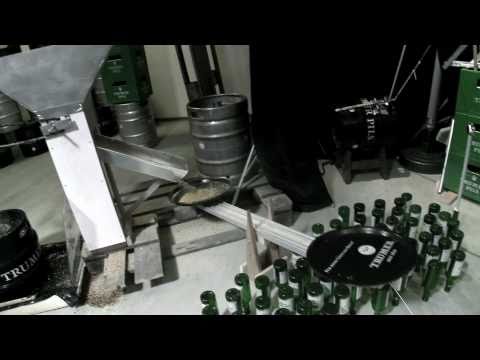 17. You can McGyver open a bottle of wine, sans corkscrew
The French guy in this video has clearly had too much to drink, but not so much that he can't open up a bottle of wine using the powers of science and his left shoe.