November 19, 2010
5552 Views
18. You are planning a BAR2D2
Jamie Price's Instructable for building a six-bottle shot dispensing robot with an elevator. It is radio-controlled, not fully-robotic – but it still makes the list for being a totally over-the-top booze-related DIY project.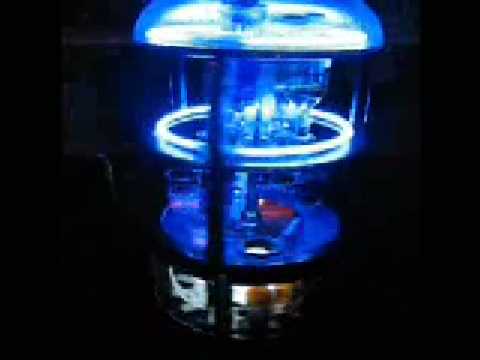 19. The security footage of your drunken (attempted) beer run goes viral
You may or may not have seen the video of this really, really drunk guy staggering into a store to buy more booze instead of doing the smart thing and going home to sleep it off.
20. Your massive beer belly gets you stuck in uncomfortable places

The story of 46-year-old Gerhard Wilder reminded me a little bit of that episode of The Simpsons where Homer became morbidly obese and ultimately prevented a nuclear incident with his expanded ass.
Wilder was walking home after a few too many beers when he fell into an open drain. Unfortunately, his unusually large stomach (a byproduct of the beer he loved so well) wedged him in place and the fire department had to be called to get him out.
A good Samaritan who tried to free him had this to say:
I tried to pull him out but he was wedged tight. He didn't see that jokers had removed the drain cover as he staggered home.
21. You take home brewing to the next dimension

The way I see it, home brewing is nothing short of art – but you have to remember that when you make all that beer then you are committed to drinking it and if you take things a step further like PopSci's John B. Carnett and build yourself an All-in-one stainless steel microbrewery then you are probably going to be drinking quite a lot.
Carnett's brewery cost just shy of $4,500, which is pretty good considering his contraption goes through every stage of the beer process – from grain to glass.
22. You think top-order carnivores look cuddly
When you are 47 years old, life experience should have taught you that the safety fences around bears at zoos are not just there for the bears' protection.
Apparently the drunk woman who did just that at the Lincoln Park Zoo in Manitowoc, Wisconsin didn't get the memo. To cut a long story short the woman (who has not been named) thought she might like to hand feed two Asiatic black bears, who instead decided to feed on her hands. The woman lost a thumb and forefinger and parts of two other fingers. Her boyfriend succeeded in keeping all of his digits when he tried to pry the bear's mouth open with his bare hands.
Her three-year-old granddaughter, who witnessed the incident, was not injured.
23. See #22 (but with crocodiles)

While people could be forgiven for thinking that Asiatic black bears look cute, you really have to wonder what it was that convinced a drunk Australian man that he could ride a five-meter salt water crocodile named Fatso.
Fortunately for the inebriate in question survived his really, really stupid idea – albeit after receiving a bite that required "dozens of stitches".
Broome Police Sergeant Roger Hayne told ABC radio:
For some reason he's made a decision to climb the fence into the crocodile park, where an almost five-meter male crocodile was living.

He appears to have wanted to touch that crocodile and sit on its back, and the crocodile has taken offense to that and bitten him on the right leg.

He's absolutely lucky to be alive, this is a large male saltwater crocodile, who aren't renowned for letting people escape once they've got hold of them.
24. You ignore your friends when they try to talk you out of chugging a pint of vodka
Twenty-nine-year-old Richard Davies liked to party a little too hard. The coroner's report recorded that he died by misadventure. The misadventure involved chugging a pint of vodka in less than four seconds.
Usually you can put these sorts of personal tragedies down to peer pressure – but not in the case of Davies – his friends tried to talk him out of it. He ignored them and raised his glass.
Christopher Crooks told the coroner that he tried in vain to save his best friend after he was found unconscious, not breathing and in a pool of his own blood
His statement read:
Richard drank a pint of vodka in four seconds or so. 'I did try to take the glass off him, but he turned his back on me, pushed me away, and drank it all.
Crooks took Davies home to his stepfather's house to sleep it off. He never woke up. He also had traces of the recently banned drug mephedrone in his system.
A blood test showed a staggering 458mg per 100ml of blood.
25. You amuse yourself and others by (simulating) getting frisky with your teammate's pet

I can't help but feel a little pity for Joel Monaghan. There is no questioning the fact that he is/was a talented rugby player – one of the best in Australia, if not the world. Until he got drunk and there was an… er, incident with his teammate's Labrador. Unluckily for him, someone snapped a shot on their cell phone, the photo did the rounds of the professional rugby circuit and then found its way out of an animal rights activists Twitter account. The rest as they say is history.
In the future maybe the bizarre incident will turn into some sort of parable. "Remember Joel Monaghan," they will say. "He was the greatest rugby player on Earth… but you only have to simulate a sex act with one dog."
Monaghan has since quit rugby and is considering attempting to resurrect his career in the United Kingdom. But at risk of repeating myself, I would like to point out that you only have to simulate one sex act with a dog – to land yourself an unenviable reputation that spans the globe.