November 19, 2010
5759 Views

A compelling argument has been put forward that modern humans first started farming to cultivate grains that could be used to produce alcohol. Given this theory, there is little wonder that so many of us find the lure of the bottle a little too hard to resist… humanity has been loving booze for a very, very long time.
Still, some people take their love for drinking a little more seriously than others (case in point the gentleman pictured above) – the present article is dedicated to them.
So, without further ado, here are 25 signs that you may have a problem with alcohol.
1. You have been pulled over by police for driving an unconventional vehicle under the influence of alcohol

The owner of this stylish La-Z-Boy, one Dennis LeRoy Anderson of Minneapolis, found himself in legal hot water when the police pulled him over for driving under the influence of alcohol. Consequently the La-Z-Boy, which he was driving at the time, found its way onto eBay – where it fetched a princely sum. How many lawnmower engine-powered La-Z-Boys with a built-in stereo system have you seen? We're betting Anderson wished he hadn't had those 8 or 9 beers before hitting the road.
2. Your drinking game of choice involves re-enacting scenes of "Deer Hunter"

If you like to remind your buddy to squeeze off an empty chamber while onlookers slap you in the face and yell "mow" – then it is likely that you have a drinking problem.
Sure, as a game it looks like it could be fun – but as with fun drinking games like this one, there is every chance that someone will have brought a camera along for the ride and that a picture will find its way onto the Internet where anyone who wants to look hard enough will be able to find it (that includes parents and prospective employers).
Price: $30
I am already employed and have grown out of being overly concerned about what my parents think.
3. You can drink 36 shots, and you have a bandoleer to prove it

Seriously, if you have a 36-shot glass bandoleer all signs point to you being in need of a liver transplant in the not too distant future, or drowning in your own puke at the end of the night. If you need to carry almost a full liter of hard liquor strapped to your chest then you definitely have a problem with alcohol.
Luckily the Shot Glass Bandoleer only costs $19.99, so even if you are a determined alcoholic who doesn't want to let thrift purchases get in the way of pickling your liver, the price shouldn't be too much of a problem (and by allowing you money to sneak booze into your favorite bar under your coat, it could actually help you with your mission).
If you carry around 36 shots of spirits you are either a douche bag, an alcoholic or both… but the smart money is on both.
4. You make stupid bets involving fire

Alcohol shuts down that part of the brain that allows you to make rational decisions. What it doesn't do, for the most part, is lessen the consequences. Take the case of a Texas man was found by the side of the road after losing a bet with friends that involved them setting his prosthetic leg alight. In sober hands the prosthesis fire might have been a bit of fun, but if history has taught us anything it is that drunks cannot be trusted with flames.
The fire on his leg spread to his pants and left him with severe burns to his lower back and buttocks. His friends wanted to do the right thing and started driving to the hospital, but then they got scared and left him by the side of the road instead.
5. You drink and drive to your court-ordered DWI classes

That drinking and driving is reckless and stupid is something that most reasonable people can accept. If you want to get drunk, don't drive a car; and if you get caught drinking and driving, learn a lesson. Don't do what 58-year-old Thomas Rexford did.
The Sloansville man was charged with DWI after he was turned away at the door of a court-ordered DWI class (where he was going to hear DWI victim impact statements) for smelling like booze. He left in his truck – suspicious odor and all.
Considering that it was a court-ordered appointment and someone saw him leaving in his own vehicle, it goes without saying that he was arrested him a short time later. There's no word yet on what happened to Rexford, but given the nature of his crime, a custodial sentence is almost certainly on the cards.
6. You turn spent booze bottles into DIY solutions

Building your own stuff is a noble art – had I done more of it growing up, the learning curve now might be less steep. However, when people start using booze bottles as a construction material, things tend to get a little bit tacky.
Take this Crown Royal lamp for example: Crown Royal is not a bad whiskey and everyone needs a lamp or two in their house – but when you put the two of them together things start to look decidedly awful.
A prospective mate would look at this Crown Royal lamp in one of two ways: glass-half-full types might think that it signifies a love of the planet and some badass DIY skills – both very positive points.
Everyone else will see it for what it is – an indication that booze will always be your secret mistress.
7. You like the idea of wine in plastic bottles that you fill yourself

Wine should never come in a plastic bottle, period, but it shouldn't have to pump it yourself either. Supermarkets in France are helping their customers save on the cost of bottling by letting them do it themselves from 1,000-liter wine dispensers.
Wine culture in France is no longer just about leisurely meals in cute little Parisian cafes. Nope, these days the French are loading up on inexpensive self-service wine, which they pump into bottled water containers from 1,000-liter wine dispensers. Sophisticated!

Five hundred of these industrial-looking machines are now in French supermarkets. And don't worry, American fellow who also wants to get sloshed on cheap vino, the self-service wine dispensers that have taken France by storm will soon be headed for these shores.
8. You enshrine your stupidity on the Internet for the world and future employers to see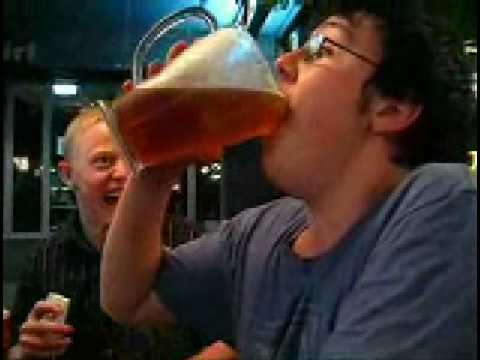 Seriously, if you can chug a pitcher in five seconds you may have a problem, or your body just may be able to handle unusually large volumes of frothy liquid. But mark my words, if you choose to record said antics on video and post them on YouTube it will come back to haunt you somewhere down the line… with employers who will find it far less cool than you and your friends did in college.