February 9, 2011
2234 Views
I live in Quebec, basically, we are north of almost everything American. Here, we know about snow, we have ice bridges that take you from one shore to the other over a frozen lake or river, we routinely get 6 inches of snow and it gets very cold. Just last night, it was -2°F and we froze our respective Canadian butts heading back from the Eskimo restaurant after an evening of snow-mobiling, French frozen pole licking and Canadian beer drinking (we called a cab…) and once we got home, to warm up we watched Hellraiser 4 by the fireplace, a movie where the hero spends most of the movie escaping from the sadistic members of a goth band from hell, and playing with a wooden medieval version of the Rubik's Cube.
Some of us are even anxiously awaiting for The Prophet Al Gore's prophecy of "Global Warming" to realize itself but sadly, so far, it's mostly been a marketing gimmick to sell those incendiary spiral light bulbs of his and to boost the popularity of those abominable vehicles called "Hybrids".
But for all the years I've lived here, all the snow I've seen, and sometimes, all the crazy stunts people have pulled behind the wheel, this (below) is new even for me.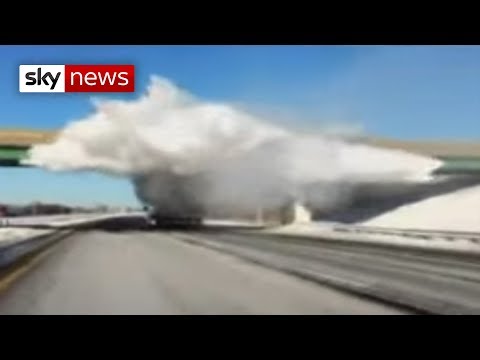 Watch as the truck driver seems to voluntarily use the overpass to clear the snow off the roof of his trailer.
Following behind the truck, another driver in Illinois whipped out his cell phone and caught the video above. Whether it's voluntary or not, that method of clearing snow off, although spectacular for us Internet dwellers, is risky, and dangerous.
However in retrospect, is it really more dangerous than to drive while operating a cell phone camera?