January 27, 2012
1588 Views
Some people are just so freaking talented that they can take any old object, be it a basketball, rolling pin or decorative lamp, and use it to make a beautiful piece of art so fabulous that the rest of us talentless folk just sit back and stare in quiet awe.  Yi Hong is one of those people, and as you can tell from the picture here, her painting of former NBA star Yao Ming, using only red paint and a basketball, is downright phenomenal.
Yi, Born and raised on the Malaysian island of Borneo, now calls Shanghai home, and since Yao Ming was China's most prominent basketball player ever, choosing the ex-Rockets center as her the subject of her basketball art seemed only appropriate.
Says Yi about her masterpiece, via the YouTube description…
Here's a painting of NBA superstar Yao Ming I did, with some red paint and a basketball! I guess all those years of basketball training in high school did come in handy!
As tremendous as Yi's painting is, the time-lapse video of her creating the Yao Ming painting is almost as impressive.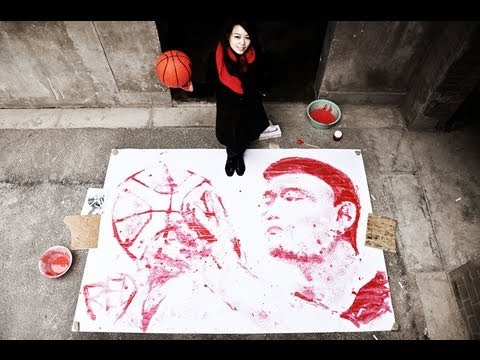 Kind of makes my paint-by-numbers of Darko Milicic pale by comparison.